CEO of Emirati MNC DP World, Sultan Ahmed bin Sulayem, on Sunday said that the hyperloop is likely to be rolled out in India or Saudi Arabia before the UAE.
Sulayem made the remarks on the sidelines of Dubai Expo 2020, a six-month-long event that started on October 1 and he said high-speed transportation will become a reality in many countries around the world by the end of this decade and if the hyperloop comes to India, it will be highly beneficial for the country.
Sulayem said that at first he will see in India then he will see it in Saudi Arabia. He hopes that once we achieve economies of scale and you have long routes and it is popular, for the speed of an aeroplane you will pay the price of a truck, Sulayem said when asked about the timeline for the Virgin Hyperloop.
Business leaders from around the world gather to discuss a range of topics, from sustainability and the geopolitical outlook to emerging business trends.
A system similar to the Hyperloop will be developed by several companies, including Virgin Hyperloop, whose majority partner is Dubai port operator DP World.
Hyperloops are described as a sealed tube or system of tubes having low air pressure along which an object can travel without significant air resistance.
Earlier this year, Hyperloop One tested shipping humans onboard a hyperloop pod for the first time.
A full-scale Hyperloop pod is on display at Expo 2020, where the company is displaying a full-scale Hyperloop pod. Sulayem also told CNN in an interview that it's not decades, it's years.
DP World earlier claimed that Hyperloop could shrink inventory movement timescales dramatically. The company predicts that finished goods inventory will reduce by as much as 25%, as well as warehouse space requirements and costs.
Richard Branson, chairman of Virgin Hyperloop One and contractor to the project, announced plans for a hyperloop system between Pune and Navi Mumbai in Maharashtra in February 2018. These plans have since been put on hold because of the Coronavirus outbreak in the state.
The state Urban Development Department granted the Hyperloop project the status of a 'Public Infrastructure Project' in November 2018. Thus, the project is eligible for the Swiss Challenge Method for awarding the work.
According to reports, the state may decide not to proceed with the proposed Pune-Mumbai Hyperloop, an ultra-modern transport system that has the potential to reduce travel time between the two cities to 25 minutes from 2.5-3 hours.
Anit Pawar, the Deputy Chief Minister of Rajasthan, expressed reservations on Friday about the project because it was in its experimental stage and had never been "implemented anywhere in the world".
In an article for The Indian Express, the author explains the mystery behind the capsule technology, the plans for its implementation in Maharashtra, and the gap between idea and reality.
How does Hyperloop technology work?
The co-founder of Tesla Inc and several other corporations, Elon Musk, unveiled his vision of a new transportation system in July 2012, which he called the 'Hyperloop'. Musk's vision was of a transport system that would never crash and which would be immune to the effects of the weather. Similarly, it would be three or four times faster than a bullet train, with a maximum speed that would be twice that of an aircraft.
Musk detailed what the technology might look like a year later, revealing that it could be passenger-friendly pods travelling through long tubes at 760 mph (1,220 km/h) powered entirely by solar energy.
This system could reduce travel time between Los Angeles and San Francisco to 30 minutes (currently, it takes three hours in high-speed trains to travel between those two cities). According to Musk,
There is a possibility that Hyperloop could be the right solution for city pairs located more than 1,500 km apart, with high traffic.
Magnetic levitation allows the pods, which carry passengers, to move at high speeds. Due to the near-vacuum conditions inside the tubes, the pod experiences less resistance as it travels through the tube, causing the speed to increase even more. Founded by Musk, the open-source initiative was made available to companies and individuals with the appropriate resources.
Of all the numerous companies that were created to develop the idea, Hyperloop One emerged as one of the most prominent. A major investment in Hyperloop One came in 2017 from billionaire Richard Branson, and it was rebranded as Virgin Hyperloop One.
Pune-Mumbai Hyperloop was envisioned in what way?
A Magnetic Maharashtra Convergence event was organized by the state government of Maharashtra headed by Devendra Fadnavis in February 2018. Virgin Hyperloop One chairman Richard Branson attended and the Hyperloop company announced that Branson will develop hyperloop transport in Maharashtra between central Pune and the Navi Mumbai airport.
A project for the development of the Pune Metropolitan Region Development Authority (PMRDA) was assigned later. After the announcement that the project would be implemented in two phases, the PMRDA took responsibility for implementing the project.
In the first phase, a test track will be constructed along an 11.4-kilometre corridor from Gahunje to Ozarde, and if that turns out to be successful, a final 117.5-kilometre track will be built in the second phase. The service is expected to connect 1.5 crore people from the two cities by allowing 15 crore passenger trips per year, once it has been operational. Furthermore, the service is expected to reduce greenhouse gas emissions by up to 86,000 tonnes over 30 years.
How's the project between Pune and Mumbai coming along?
The PMRDA had earlier this month submitted a proposal to the Maharashtra Infrastructure Development Enabling Authority (MIDEA) seeking to contract out a portion of Hyperloop's project work to private companies. According to the agency, it intends to award a contract based on the Swiss Challenge Method by announcing DP World FZE and Hyperloop Technologies Inc as to the 'original project proposers' while inviting other stakeholders to resubmit better proposals.
November 2018 marked the first anniversary of the hyperloop project's designation as a 'Public Infrastructure Project' by the state's Urban Development Department. Thus, the project is eligible for the Swiss Challenge Method for awarding the work.
From January 2019 to February 2019, PMRDA gathered public opinions and suggestions about the project.
The chief PMRDA official, however, stated on Saturday that nothing had yet been finalized. A few months ago, we asked Virgin Hyperloop One for clarifications regarding some issues we were facing, but have not heard back from them. DP World FZE and Hyperloop Technologies Inc were announced conditionally as Original Project Proponents however the announcement is still not final. We have yet to finalize all of the processes we need to complete before an announcement can be made about a DPR."
Are there any other cities looking into Hyperloops?
Currently, nine companies are developing the technology, and many of them have announced plans to build test tracks and intercity transportation systems in various parts of the world.
Many companies are seeking to develop Hyperloop technology, such as Virgin Hyperloop One, Hyperloop Transportation Technologies, and TransPod. There is an Indian firm, called DGWHyperloop India, which has entered the market as well.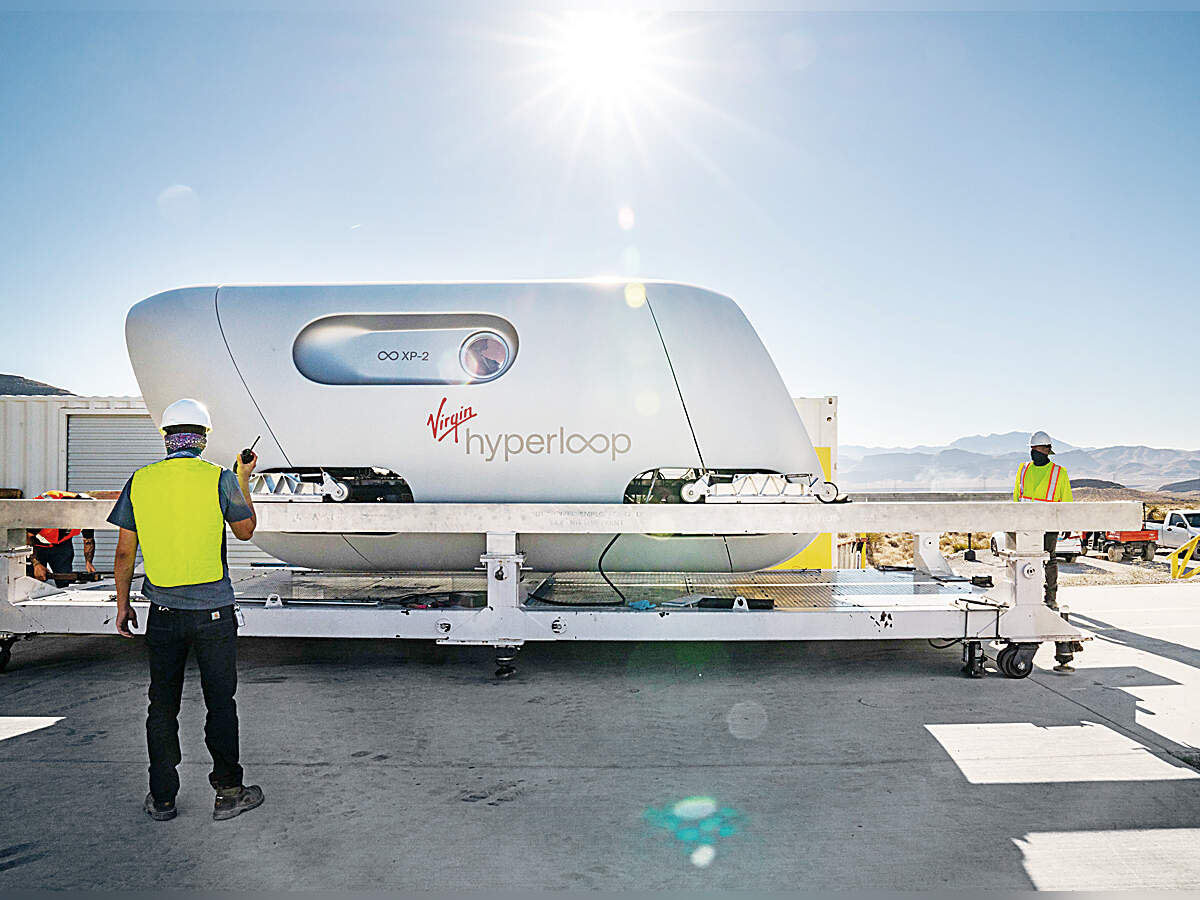 Many companies have announced several routes over the last few years, with the largest being the hyperloop link between Pune and Mumbai, one connecting Los Angeles with San Francisco, another connecting Abu Dhabi with Al Ain, and another between Amravati and Vijayawada. A track or railroad that connects some of Missouri's largest cities such as St. Louis, Kansas City, and Columbia as well as several Canadian routes including Toronto-Montreal, Toronto-Windsor, and Calgary-Edmonton.  
Despite this slow progress, all of these programs are still going ahead.
What is the future of the Pune-Mumbai hyperloop?
During his appearance in Pune at the Transportation for Tomorrow Conference, Pawar said, "There is no Hyperloop project anywhere in the world." The project should at the very least be implemented somewhere for at least ten kilometres. Our next move will be to consider implementing it in the state when it is successful."