In the murky waters of international geopolitics, a new species has been introduced by the name of "AUKUS" which is an acronym for  the security alliance comprising of Australia, United Kingdom and United States.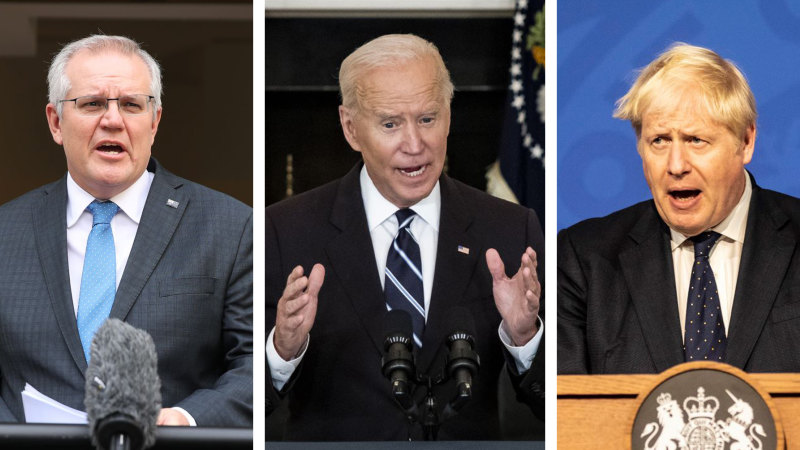 It is primarily aimed at the Indo-Pacific region to counter increasing Chinese jingoism. This begs the question as to why a new alliance was formed for the region which is already congested with QUAD, ANZUS and Five Eyes. The reasons are not far to see.
Analysing the Indo-Pacific region from a strategic perspective prompts an urgent need for a strong military alliance in the region because the others are non-military in nature with QUAD focussing on freedom of navigation, trade and climate change while ANZUS is non-binding and Five Eyes is about intelligence sharing.
China has been exploiting this lacuna to its own advantage claiming large parts of South China Sea as its own territory and infringing on globally accepted norms like freedom of navigation through South China Sea by asking ships to seek clearance from it before entering the Sea and announcing the contents of the cargo they are carrying. This has riled all the nations in the region as it is considered to be part of global common.
Moreover, it has been arm twisting the smaller nations in the region with territorial disputes involving Phillipines, Vietnam as well as Japan. After Australia openly questioned the role of China in the spread of Covid and asking for the source of Coronavirus to be investigated, the relationship between the two countries is anything but cordial and China retaliated with trade sanctions.
All these countries suffer from a major lacuna as far as modern-day warfare is concerned. None of them possess nuclear weapons. Australia is a signatory to NPT (non-proliferation treaty) which is why it does not posess any nuclear weapons and neither does it have nuclear reactor technology. The other major power in the region Japan also faces the same handicap which makes the entire Indo-Pacific region vulnerable to Chinese attack and the Chinese have been asserting themselves in the region. AUKUS will address this deficit and restore the balance of power in the region. 
The security alliance is priamrily aimed at equipping Australia with nuclear-powered submarines as Australian Prime Minister Scott Morrison announced during their televised union with other partners of the alliance. But this is not the end of it, it is the beginning. America aims to equip Australia with Tomahawk cruise missiles and long-range anti-ship missiles also.
The immediate focus of the alliance on equipping Australia with nuclear-powered submarines is premised on the fact that nuclear-powered submarines are the best way to counter the Chinese navy as they remain submerged and hence are very difficult to detect. Even satellites cannot see them from above as their eyes cannot penetrate the ocean's blue waters.
American nuclear reactor technology is far advanced than Chinese and hence will lend a death blow to PLAN no matter the size of PLAN (People's Liberation Army Navy). China is naturally very worried about this development and has reacted very sharply to it. This is the first time its hegemony in the Indo-Pacific will be challenged so vehemently.
This also puts in jeopardy China's plan to takeover Taiwan militarily as the nuclear-powered submarines of Australia eqquiped with cruise missiles and anti-ship missile can remain submerged in the Taiwan strait and pose severe threat to Chinese navy and the dream of "One China" will always remain a dream and never actualize.
As always, in geopolitics, there is more than meets the eyes. All members of the alliance have their own fish to fry. A closer perusal is warranted. America in general and Biden in particular is in desperate need for a image makeover and restore its credibility in the comity of nations after the disastrous pull out from Afghanistan and shameful defeat at the hands of a bunch of gun-totting hooligans called the Taliban.
For America, AUKUS will be like hitting two birds with the same stone. On one hand it will announce to the world that America is back and can still play the role of policeman to the world albeit with cooperation from similar-thinking countries. On the other hand it will be able to checkmate the rise of China which threatens its position as the numero uno power in the world and challenges US domination.
Britain on the other hand sees AUKUS as an opportunity to maintain its relevance in the world after the ignominious Brexit verdit. This is Britain's first major foreign policy foray after exiting the European Union and it hopes to restore some of its lost pride and arrest its geopolitical slide.
Australia is the net gainer in this deal. It will get protection from Chinese malevolence, but since the submarines would be built in Adelaide, it will get access to very secretive American nuclear reactor technology that the Americans have never used shared with anyone other than Britain.

France feels back stabbed as the French foreign minister said as much and minced no words in criticizing America for doing this clandestinely without taking any other member of the European Union into confidence. The submarine deal, worth 66 billion dollars, was supposed to be awarded to the Naval Group of France and the deliberations had been going on since 2016. This sudden turn of events has taken them by surprise as they feel cheated and outsmarted by US. No wonder France has recalled its ambassador to US and Australia.
The question troubling the topmost minds of Indian strategic community is the significance and relevance of QUAD in the light of this new development. Has the US abandoned India and Japan as far as its Indo-Pacific strategy is concerned. All is not lost for India as AUKUS may be a blessing in disguise. The QUAD was conceived as an Asian NATO to counter China in the Indian Ocean but now it would relieve pressure on it as the heavy lifting would be done by UK, US and Australia and would give some breathing space to India.
The QUAD could be re-oriented to focus countering China's economic dominance and putting in place trade deals which would considerably reduce China's pre-eminent position in world trade. All in all, AUKUS seems to be a winning proposition for India but the lesson here is to stop being hesitant about its position and bring more clarity in its foreign policy.