Actress Sanya Malhotra and Abhimanyu Dassani star Meenakshi Sundareshwar received positive reviews from the audience. A simple love story is woven with a very natural play and smooth direction; it seems to do wonders for the audience. The film was released on November 5 on the OTT platform and opened up a warm response from internet users.
When you finish watching Meenakshi Sundareshwar on Netflix, there will be a lot of questions in your head about how they did it.
First of all, why is this movie not in Hindi? Dharmic is a direct Dharma production focused on the content of OTT platforms. So, when everyone in the original language is watching regional movies, why is this movie made in Hindi?
The second question is, why are they magnifying the old superstitions that Bollywood had already made about South India and the South Indians? The next question will be what exactly in this film makes the people of Dharma feel like it has something unique?
Meenakshi Sundareshwar is a reckless story that does not require the background of South India. With those humorous comments repeated on screen, this one from Vivek Soni offends anyone who knows Tamil Nadu and its culture.
Sundareshwar, also known as Sundar, is a BTech graduate looking for a job. He has no interest in taking his father's saree business. Under pressure from her family, she agrees to a planned marriage.
So you meet Meenakshi, and the wedding happens. After the wedding, Sundar gets a job in Bangalore, and she leaves for physical training a few hours later. The long-term relationship between the couple and the problems around them is what we see in Meenakshi Sundareshwar.
We see here that Rab Ne Bana Di Jodi is a type of statue in which a couple goes through a phase of intimacy after marriage. But the unpleasant thing about this film is the writing. The background of the South Indian film is probably the trick they used to make it sound like a "different" film.
The situation in the area, Vivek Soni and his colleague Aarsh Vora showed us how ignorant they were of Tamil culture. Just as Rohit Shetty thought that Rajinikanth reference could make the movie look cool, we have Meenakshi introduced as a staunch supporter of Rajinikanth. They did not bother to take a second view of the South Indian man because Ithalaivar has always been Ithalaiva.
Sanya Malhotra plays the role of Meenakshi, who is fun and speaks her mind without much hesitation. This section presents him with trivial challenges as an actor without uttering Tamil words, which even Tamil-speaking people may find difficult to understand. Abhimanyu Dassani, like Sundareshwar, tries to make his character look attractive.
But writing has already made Sundar a caricature, and you won't hear anything about that character. There is little mention of the cast of all the characters dressed as those from the daily South Indian indoor.
Long-distance relationships and their complexity are the backbones of the film. But to get there, the film takes a long time to hell, and the obstacles they throw at prominent actors feel foolish. In another incident, Sundar climbs into a pipe with his drunken nephew. There is a "sad" song when Meenakshi returns to Madurai.
An app that ignores privacy is shown as a good idea. The screen game is a confusing mixture of meaningless deviations that never helps the movie move forward. The only thing that sounded good and interesting to the cinema was the cinematography, which extensively used still frames.
Ignorance is evident even in production design. According to the song, when Meenakshi walks through the vegetable market, you can only see bananas.
According to Wikipedia, the filming of the film began in November 2020. Shockingly, they dared to make a story about the Tamil people in Hindi after all those outrages over the Lungi dance and the ongoing protests by the Tamil people to stop forcing Hindi on them.
If you are making a movie about people from a certain region of the world, it would be good to give someone from there a text. That may help you to see that Lungi and Vashti are different.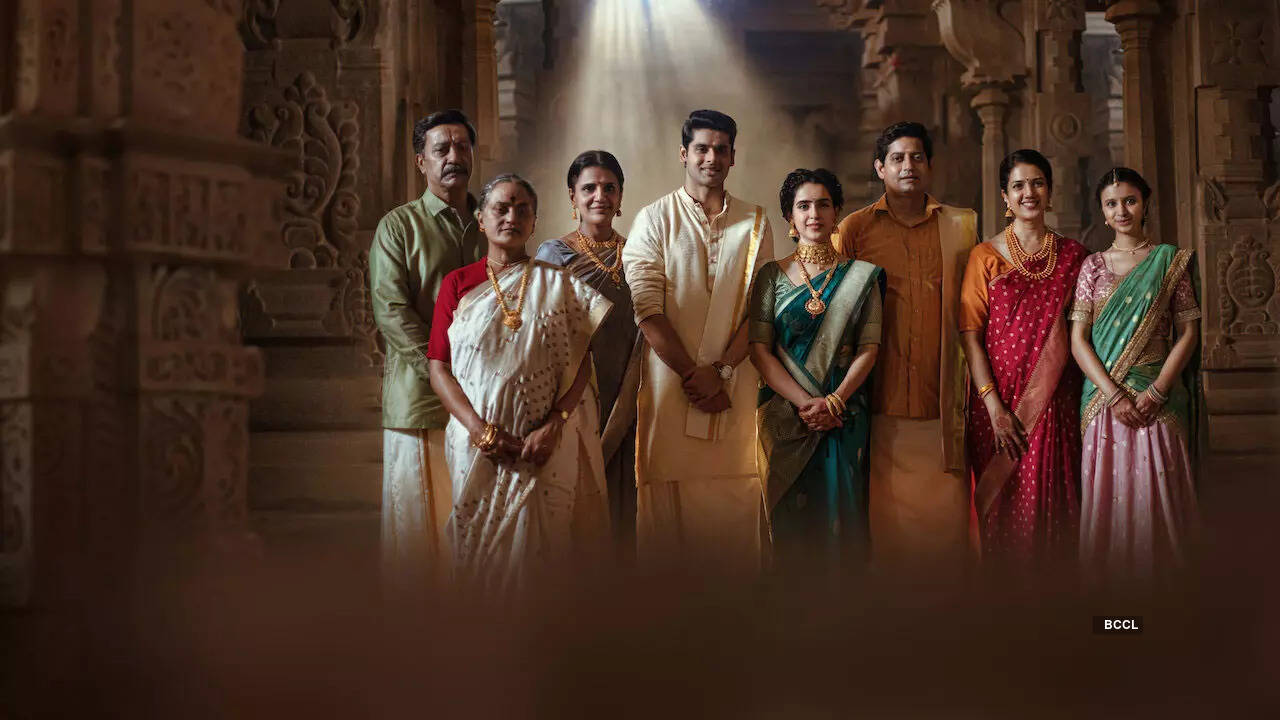 The film is directed by Vivek Soni and produced by Karan Johar. Meenakshi Sundareshwar is a hidden rom-com that surrounds a young couple in a long-distance marriage.
Set in Madurai, the film revolves around two families wanting to marry their children. The ups and downs of a long-term marriage, and how easy or difficult it is to face reality but keep the love strong, is what the film is all about.
This is the first time Sanya Malhotra will be seen playing the role of a South indian actress on screen. Abhimanyu has always been receiving positive responses to the portrayal of his character as a sweet and innocent South Indian boy, Sundareshwar.
For the uneducated, Abhimanyu is the son of the late Bollywood star Bhagyashree. Recently, she was seen advertising her film with her and Sanya Malhotra on the original Bigg Boss show.
It was here that Bhagyashree and program host and star Salman Khan remembered their ancient golden times when they shot their hit film Maine Pyar Kiya. Salman Khan appeared shocked by Bhagyashree's son Abhimanyu and congratulated him and Sania Malhotra on their film.
Meenakshi Sundareshwar is a simple-hearted joke, and our leading roles have done an excellent job, given that none of them belong to the southern regions. Sanya, as he always melts our hearts. We are impressed with her character Meenakshi, and the look of South Indian is a good thing for the actor.
Unlike other roles she played, Sanya emphasized the humorous and emotional nature of her character. As for Abhimanyu, who plays Sudareshwar, this is his unprecedented appearance. No action sequence, no fights, no punches left.
edited and proofread by nikita sharma