Surat, at the Tapti River is the commercial and economic pivot in South Gujarat, also one of the largest urban areas of western India. Surat, formerly Suryapur, today's modern port city, has a rich historical and cultural history. Surat's history dates back to the epic periods of the Mahabharata and Ramayana.
Many people refer to Surat's distinct tradition as "Surti Culture." Surti culture, albeit different in taste, preserves the core of Indian culture. One of India's cleanest cities, and it is also known as Diamond City of India. It boasts the liveliest current and an immensely diverse historical history. Surat has the same history today, with people coming from all across the country for commerce and jobs.
When it comes to food, Surat and food were destined to be together. That is something you cannot refute.
Though most of the exploration is done on the streets, there is bound to be something spectacular that you will miss if you do not try out the famed restaurants as specified by the locals. The peaceful environment, luxury experience, and delicious food can't be beaten here. We've created a list of the top restaurants in Surat for people with a refined palate and a penchant for the sublime. These are a must-try for every food lover irrespective of whether residing in the city, is also a nice shortlist for those who are simply passing through and are baffled.
LEVEL 5 TERRACE
LEVEL 5 is an award-winning fine dining establishment that portrays the uniqueness of Indian and eastern cuisines. Few diners stand out along with the correct delicacy and ambiance, and Level 5 is one of them. Acclaimed for keeping on the tradition of delivering meals that captivate the souls of Indian families. Level 5 offers the luxuries of traditional Indian and Oriental cuisine amid Surat's crowded culinary scene.
Their goal is to provide the most genuine Indian & Oriental cuisine from various areas of the country, complemented with an excellent gourmet experience founded on a trusting connection. Level strives to develop and serve the finest food while devoting close emphasis to every element of service, atmosphere, and entertainment, making it a long-time favorite among foodies in Surat.
Cost for Two: 1400/- INR
Address: Royal Trade Centre, 515, Hazira – Adajan Rd, Jalaram Society, Adajan Gam, Adajan, Surat, Gujarat 395009
LEONARDO ITALIAN MEDITERRANEAN DINING
The delicious food of Italy is now available in Surat. Leonardo Italian Mediterranean Dining is a one-of-a-kind restaurant under the reputable umbrella of a hospitality company. The magnificent restaurant transports you to the land of Italy, where the flavor is born of love, smells create beauty, and people believe that the road to the heart is via the stomach. They have a true-bred Italian chef, a master of the culinary arts who understands exactly what he has to do to leave you wanting more. They serve the greatest Italian cuisine prepared by their top chef.
This restaurant, which serves a magnificent combination of Italian bread and Mediterranean delights, is a total table turn, with scores of people eagerly awaiting a full round of pizzas. The Leonardo Italian Mediterranean Dining has a relaxing atmosphere that is excellent for spending quality time with friends and family. Despite being entirely vegetarian, the cuisine in this restaurant is appealing and served by a kind crew. The seating space is structured and big, and it can handle a huge audience. It is simple and somber. The high variety and quality of raw ingredients assist clients in this taste journey of Italian perfection.
Cost for Two: 1600/- INR
Address: Behind Iscon Mall, Inside SpiceVilla Restaurant, Dumas Rd, Piplod, Surat, Gujarat 395007
WOK ON FIRE
Wok on Fire, one of the top fine dining restaurants in Surat, provides a range of South Asian cuisine, the most well-known of which is Chinese. Wok on Fire is a contemporary, modern eating establishment that serves a variety of Chinese and Asian foods in counter-serve settings. It is one of the top restaurants in Surat for Chinese food in the Adajan neighborhood. Their chefs provide traditional Chinese cuisine. The restaurant serves a range of Chinese dishes catered to perfection.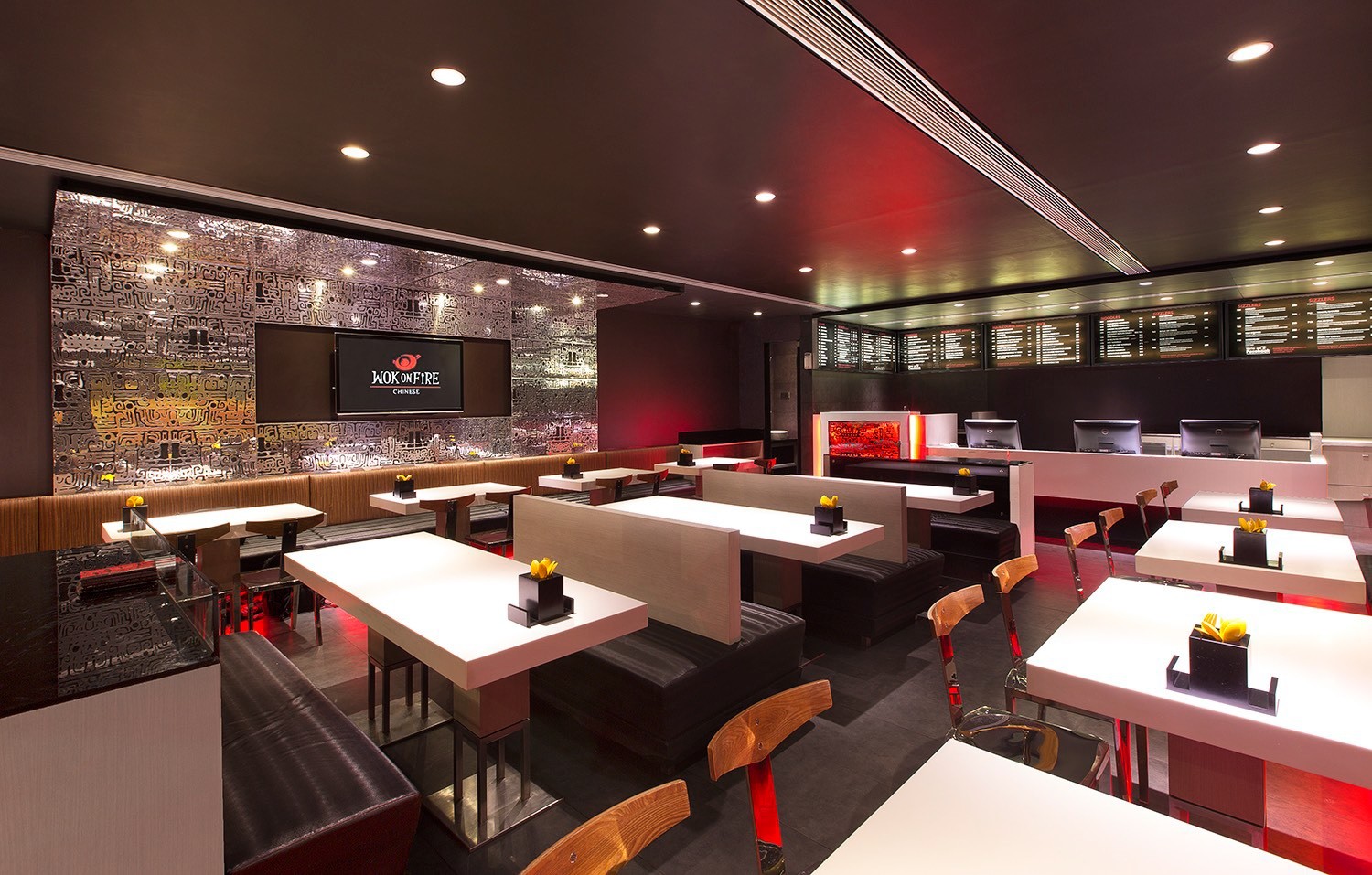 Their cuisine is clean, fairly priced, and authentic. They also service three Surat sites. The rice bowls with gravies are a must-try. If you enjoy Chinese cuisine, you must visit this restaurant. Wok on Fire is a must if you want to enjoy real gourmet dining, with dishes such as Hakka noodles, Manchow soup, Crispy potato, Thai curry, momos, and the brownie sizzler in desserts.
Cost for Two: 900/- INR
Address: Sargam Shopping Center, Shop No. G- 2, Golden Square, near Parle Point, Surat, Gujarat 395007
SASUMAA GUJARATI THALI
Gujarati cuisine is well-known around the world since it is entirely vegetarian. Sasumaa diner is a well-known establishment in Surat. It was established in 1999 in Vadodara and provides Gujarati thali as well as multi-cuisine dishes. Sasumaa restaurant's hospitality provides delectable Gujarati cuisine. Several celebrities have dined at the renowned restaurant.
Sasumaa is a classic eating experience that offers a wonderful dining experience. Its beautiful decor, excellent vegetarian cuisine, and welcoming environment ensure that the restaurant is usually busy. Sasumaa is well-known for its renowned Gujarati thalis. Sasumaa, the restaurant providing the greatest Gujarati food in town, is defined by its accurate staff coordination, aromatic cooking, and informal décor that welcome a big number of hungry guests.
Cost for Two: 500/- INR
Address: Mangal Deep Complex, Ring Rd, opp. Vanita Vishram Ground, Vijay Nagar, Majura Gate, Surat, Gujarat 395007
KANSAR GUJARAT THALI
Another restaurant that is a gem when you want good, fulfilling food on a tight budget. Kansar Gujarati Thali, with its limitless thalis and wide seating, offers the real flavor of Gujarat and is excellent for travelers and workers. The service is quick, and the servers will encourage that you take advantage of the limitless food available, especially if you're visiting Gujarat for the first time. Large parties can also personalize their thalis by creating their combinations. Only vegetarian meals are available at the restaurant.
The Surti Thali at Kansar is essential to your dining experience. Kansar is one of the oldest places serving genuine Surat Thali, and the meal is simple, homey, and tasty. The finest thali in Surat at Kansar includes a beginning such as khaman, dhokla, or idada. Gujarati vegetables, poori, roti, and dessert are available. The Thali also includes buttermilk.
Cost for Two: 650/- INR
Address: 2nd floor, Trinity Business Park, 202, LP Savani Rd, TGB, Adajan Gam, Adajan, Surat, Gujarat 395009
MYSORE CAFÉ
Surat is well-known not just for Gujarati cuisine, but also for South Indian cuisine. It is the greatest morning gathering spot with authentic south Indian flavors. The Mysore Cafe, one of the top restaurants in Surat known for offering authentic and delicious South Indian cuisine, has drawn every Surti from young to elderly.
Mysore Cafe is the place to go if you enjoy South Indian food, from the delicious Mysore Masala Dose to the idlis soaked in the creamy sambhar. Taste their uttapam, medu vada, and Rava dosa as well, and you'll be returning every day to have their crispy, delicious dosas.
Cost for Two: 400/- INR
Address: Daruwalla Building Beside Athwa Petrol Pump, Athwalines, Surat, Gujarat 395001
MR. & MRS. SOMANI
Mr & Mrs. Somani is a 5-star restaurant at The Grand Bhagwati, Dumas Surat. Their USP is the innovation they've tried in each dish, whether it's their appetizers or desserts. Aside from the lovely ambiance, Mr & Mrs. Somani's welcoming employees' service to the customers show how much they value their visitors. These restaurateurs are concerned about providing excellent service. The fact that they meet you at the table with moist hot scented hand cloths and a delicious saunf drink after the meal demonstrates their friendliness.
It's a great idea to start with precisely prepared paneer, biryani, and soup. Mumtaz Mahal Falooda, Dungar Paneer, Afghani Aloo Kajur Kebab, Handi Biryani, Pesto Paneer Tikka, Sizzling Kulfi, Tomato Shorba, and Paneer Angarey are some of their signature dishes. It's a great idea to start with precisely prepared paneer, biryani, and soup. Mr & Mrs. Somani's welcoming employees may demonstrate how much they value their visitors. These restaurateurs are concerned about providing excellent service.
Cost for Two: 1000/- INR
Address: Circle, Dumas Rd, Magdalla, Surat, Gujarat 395007
SIZZLING SALSA
The Sizzling Salsa restaurant in Surat, as the name implies, provides a variety of sizzlers. The greatest restaurant in Surat with sizzlers ranging from Italian to Mexican to Chinese, the hot sizzle is a sight to behold. They even have tasty appetizers and liqueurs. Guests are usually greeted with a complimentary drink. This restaurant is well-known for Sizzler's excellent cuisine, as well as its friendly service and superb consistency. On certain nights, when he hosts a candlelight supper, the sizzling salsa creates a romantic ambiance.
A hangout place frequently visited by the neighbors, shows the popularity it gained. A piece of Mexican food is wonderful, with unusual dishes like ankildas, and if you're searching for some Italian dining, try Twin Pasta. Don't forget to finish your meal with a hot brownie.
Cost for Two: 2000/- INR
Address: Surat-Dumas Road Opposite Iscon Mall # 1st Floor, Rajhans Cinema, Gujarat 394370
JALARAM KHICHDI
Jalaram Khichdi, as the name suggests, is well-known for its delicious khichdi and kadi. There is nothing like dining at Jalaram Khichdi and relishing the delicious meals here if you wish to sample real Kathyawadi Gujarati cuisine in Surat. Aside from that, their Gujarati food is fantastic. All kathiyawadi cuisine is cooked with the utmost care at Jalaram Khichdi, food tastes just like home-cooked meals.
Some of the greatest Gujarati cuisines can be found here and are made hygienically and deliciously served to fulfill consumer expectations. If you want to taste Gujarati Thali or Gujarati Khichdi, this is also one of the best Gujarati restaurants. Puranpoli, Bhindi fry, Palak Khichdi, Lasaniya Bataka, Gatta nu sag, and mixed bhajiya are must-order delicacies. Jalaram khichdi is particularly well-known for its Rajawadi Khichdi-Kadhi.
Cost for Two: 800/- INR
Address: L-17,18,19, Anmol Complex, Parle Point Flyover, near Sargam Shopping Center, Surat, Gujarat 395007
FALAFEL LOVERS
Falafel Lovers is the ideal location to go if you're searching for a casual eating experience. With its warm furnishings and gentle colors, the restaurant provides a one-of-a-kind environment and is a fantastic spot to hang out with your friends. You may have the massive Falafel burgers or the spicy Falafel quesadillas. Sushi Falafel is a strongly recommended option for fish lovers, inviting you to play with a delicious combination of exotic herbs, fresh veggies, and an undertone of sushi.
Cost for Two: 900/- INR
Address: 101/109, Royal Arcade, Lambe Hanuman Rd, near Panchratna Tower, Varachha, Surat, Gujarat 395006