Lucknow, the capital of Uttar Pradesh, has long been a cosmopolitan city that prospered as a cultural and artistic center for North India.
The 'Land of Nawab' has given the world numerous great personalities: Poets, writers, lyricists, musicians, wducators, and many more. But, besides the ghazals and shayaris, Lucknow is infamous for its food. From aromatic biryanis with a mild elaichi flavor to those juicy and tender kebabs which melt in your mouth like clouds, Lucknowis are gifted by the gods with culinary goodness because whatever they make turns into a gastronomic wonder.
Traditional recipes, complex cooking techniques, and the right balance of spices are credited for the city's legendary cuisine. All of these factors combine to make Lucknow a foodie's dream. Several prominent eateries in the city are assisting the cause of foodies by rustling up culinary storms in their kitchens and serving absolute pleasures on platters.
To help you on your gastronomic adventure of discovering the city's greatest food stops, we've compiled a list of the top restaurants in Lucknow where you can savor its genuine flavors.
OUDHYANA
In the lobby of Vivanta by Taj, you come across Oudhyana, a fine dining restaurant with unmatched experience in all of Lucknow. As you walk graciously and slowly towards your table, the chandeliers above shine upon you. The exceptionally courteous and experienced serving staff will offer you the finest Awadhi and Mughlai food. Every dish is exquisite and skillfully spiced, giving depth and intensity to every mouthful without dominating the taste, from the melt-in-your-mouth kebabs to the creamy parathas and scrumptious biryanis.
The king's feast must feature melt-in-your-mouth kebabs, meat that falls off the bone, and velvety gravy. No big chunks or entire spices are floating in the sauce in traditional Awadhi cuisine. After all, nothing should upset the Nawabs, not even their meals.
Cost for two: 3500/- INR (without alcohol)
Address: Vivanta By Taj, Vipin Khand, Gomti Nagar, Lucknow, Uttar Pradesh 226010
L-14
L-14 – All Day Dining restaurant, located on the 14th floor of Marriott's, offers a distinctive fine-dining experience in a relaxed environment. While staring out over the Lucknow metropolis, savor exquisite foreign food and ambiance. A unique top-view fine dining restaurant in Lucknow, with far-reaching vistas of lush gardens on one side and the river on the other. This restaurant promises to provide the most exotic cuisines on a plate and more than delivers on that promise.
An all-day restaurant that is always ready to welcome and serve customers with grace and kindness. Continental, Asian, Thai, Chinese, North Indian, and South Indian cuisines are available at this restaurant. Whatever your heart desires, you can always rely on this restaurant's buffet selections to satisfy your needs. It is advised that you reserve your table before visiting this great diner for a culinary delight.
Cost for two: 3500/- INR
Address: Vipin Khand, Gomti Nagar, 14th Floor, Renaissance Lucknow Hotel, Vipin Khand, Gomti Nagar, Lucknow, Uttar Pradesh 226010
THE MUGHAL'S DASTARKHWAN
The Mughal's Dastarkhwan in Hazratganj is the place to go if you want to try real Mughlai cuisine from Awadh. This restaurant is a carnivore's paradise, serving everything from mouthwatering galawat kebab and mutton rogan josh to chicken biryani and Shami kabab. The restaurant is a Mecca for Mughlai food enthusiasts, and it is regularly rated as one of the top locations for Mughlai cuisine in Lucknow. You may eat a variety of non-vegetarian foods at a reasonable price.
Check the menu if you're accustomed to the food, or simply follow the recommendations. You'll leave with a big smile on your face and a full stomach.
Cost for two: 1000/- INR
Address: 3/106, Mandi Parishad Rd, Vivek Khand 3, Gomti Nagar, Lucknow, Uttar Pradesh 226010
VINTAGE MACHINE
The Vintage Machine, with its aged wooden furniture, rustic metallic racks, ancient heavy spotlights, and naked filament bulbs, provides diners an old English pub reminiscence in the core of Lucknow. When it comes to cuisine, however, the Vintage Machine can compete with even the most exclusive restaurant. While the restaurant provides a variety of cuisines, the focus is on Italian specialties.
The Vintage Machine offers a variety of cuisines with an emphasis on Italian, including delectable pizzas, lasagnas, pasta, and sandwiches. This is a fantastic stop for a piece of eccentric comfort when touring Lucknow, with its retro décor, hearty meals, and warm service.
Cost for two: 1200/- INR (without alcohol)
Address: 3/11 Patrakarpuram Crossing Road, Railway Station Rd, Patrakar Puram, Sector 11, Lucknow, Uttar Pradesh 226010
TUNDAY KABABI
For more than a century, Tunday Kababi's legacy has dominated the hearts of millions, from the ordinary man to the most captivating personalities and superstars. With an exceptional selection of over a hundred spices and herbs, the delicacies have made a global impression, with Tunday Kababi serving as a pilgrimage for culinary reviewers all over the world. Such is the excitement that a visit to the Awadhi region is not complete without a stop to the over 109-year-old outlet.
The Gods of Kabab have bestowed the world's greatest foods on this location. The kheer, known as Firni in Delhi, was the ideal dessert to counterbalance and metabolize all of the food you had had previously. And all for a ridiculously low cost.
Cost for two: 500/- INR (without alcohol)
Address: 168/6, Old Nazirabad Rd, Mohan Market, Khayali Ganj, Aminabad, Lucknow, Uttar Pradesh 226018
GREEN RESTAURANT
Green Restaurant is a popular vegetarian restaurant in Lucknow, Uttar Pradesh. They want to offer high-quality vegetarian meals at a reasonable price. Green Restaurant was founded to astound people with its brilliance and simplicity. Pao bhaji, Chola bhatura, vegetarian noodles, and paneer dosa are some of their specialties. Desserts like malai handi, rasmalai, gulab jamun, and moong dal halwa will round out your dinner. Green Restaurant allows you to reserve a table before you arrive.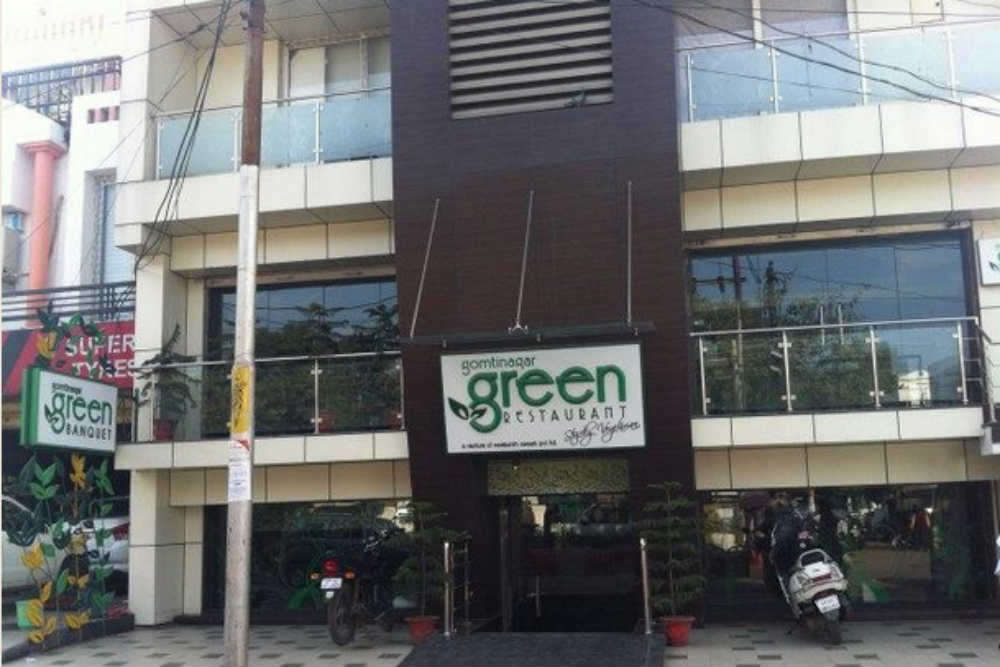 If you enjoy vegan cuisine, Green Restaurant is the place to go. The pleasant ambiance, professional service, and diverse cuisine make it popular with families. They provide a variety of cuisines such as South Indian, North Indian, Chinese, and fast food. Because the tasty meals keep people coming back for more, the restaurant is frequently busy with large families and parties.
Cost for two: 1100/- INR
Address: Baldev Singh Arya Marg, near Neelkanth Sweets, Vivek Khand 2, Gomti Nagar, Lucknow, Uttar Pradesh 226010
AZRAK
To begin with, Azrak represents elegance, tradition, and monarchy. The beautiful ambiance of this fine-dining restaurant at Lebua Lucknow captivates you. The restaurant combines royal dishes from three former princely kingdoms of India. And when Awadh, the Nawabs' home state, Hyderabad, the Nizams' home state, and the Shahi Rajputana join together, the effect is spectacular. Qadeemi Lazzat brings back a rare blend of Awadhi delights, paying respect to the aesthetically captivating and texturally rich meals of a bygone period.
The thalis and rice types offered here are crowd-pleasers, and the morning dish is just enough to get you started for the day. A well-crafted dessert such as Firni, Malpua with Rabri, or Sewain ka Muzafar will bring a pleasant conclusion to your dining experience. In addition to this, the restaurant provides Pan-Asian cuisine.
Cost for two: 1800/- INR (without alcohol)
Address: RWMX+M77, Sarva Palli, The Mall Avenue, Lucknow, Uttar Pradesh 226001
CHUNG FA
Chung Fa is one of Lucknow's well-known Chinese restaurants. One of Lucknow's oldest restaurants and the finest location to go for high-quality Chinese food. The restaurant offers a large dining area and a pleasant environment. The inside and outside designs of the restaurants evoke dragons and scarlet balls. Chung Fa serves a broad range of genuine Chinese cuisine, including seafood.
They provide both vegetarian and non-vegetarian dishes with authentic Chinese flavor. Customers may enjoy their Chopsuey Dishes. Vegetarian American Chopsuey, Vegetarian Chinese Chopsuey, and Vegetarian Sichuan Chopsuey. The genuine Chinese decor, smiling proprietors, and friendly service all contribute to a memorable eating experience. The chili chicken, chicken drumsticks, and Singapore noodles are also standouts on this menu.
Cost for two: 900/- INR
Address: Gole Market, Mahanagar, Lucknow, Uttar Pradesh 226006
IDREES BIRYANI
Idrees is the only authentic biryani restaurant for everyone who adores Lucknow's biryani and the flavors that are typically associated with Awadhi cookery. Idrees is a name we've all heard; ask anybody in the city and they'll direct you to the run-down store that nevertheless offers a biryani that's unrivaled.
Though you may not want to dine here at first look, Idrees' legacy transcends the aesthetics, and once inside, the lingering fragrance of biryani and creamy curries will have you salivating in no time. Though there is no space to stand/sit and eat in solitude here, there is a biryani so wonderful that you'll dream about it for days. This mix of beautifully cooked meat and flavorful rice is what makes Idrees' biryani a Lucknow institution. Furthermore, the biryani here is paired with raita, which provides a whole new dimension of richness to this simple rice meal and makes us desire it all the time.
Cost for two: 450/- INR
Address: Jauhari Mohalla, Raja Bazar, Chowk, Lucknow, Uttar Pradesh 226003
SPICE CAVES
Readers, can you figure out the theme of Spice Caves? Folks, the clue is right there in the name. The restaurant, with its cave-like decor and chill ambiance, is a combination of theme, seclusion, and, of course, great cuisine. Whether you are a vegetarian or not, the cuisine here will make an indelible impact on you.
Foodies will have a field day investigating the food at this establishment, from the appetizers to the main course and sweets. If you want to dazzle the romantic partner, you may just reserve the machaan section at this restaurant. The machaan area's beautiful atmosphere makes it one of the greatest restaurants in Lucknow for lovers.
Cost for two: 1500/- INR
Address: 1st Floor, 4/293, Patrakarpuram Rd, above Samsung Showroom, Vivek Khand 2, Gomti Nagar, Lucknow, Uttar Pradesh 226010